OKA FACTORY's 4 commitments regarding our tools
Our motto is that we support the tool user's point of view.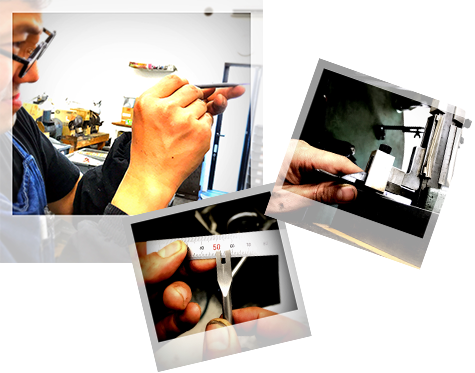 01
An integrated production system
All our products are made in the OKA FACTORY from taking care about the quality of the materials to skillfully bringing our tools to perfection.
Our goal is that we make the tools suitable for beginners of leather crafting and at reasonable prices which are also pleasant to use.
Regarding leather materials, there are many ways of processing wallets, bags etc…in addition to the kind of animal and the tanning techniques which make the leather texture feel different.
This is very different from the processing of cloth, so the quality of the tools for (cutting, punching holes etc…) is very important. We are making our tools on a one by one basis by a skilled craftsman.
We have attached user instructions with each item, which are easy to understand.
If you lose the instructions, you can visit our website and easily download them.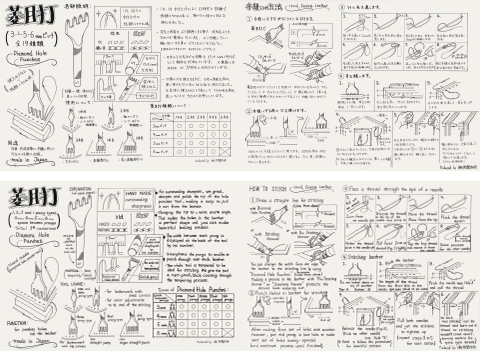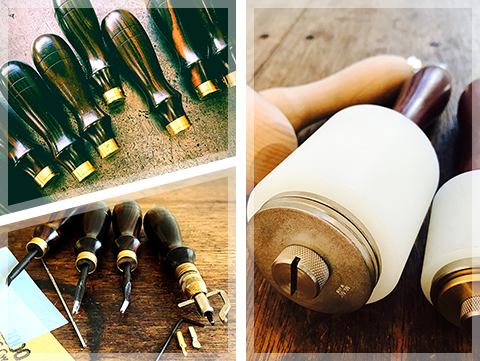 We sell specially made items in a limited quantity.
If you are a customer who is looking for rare, not widely distributed tools, you can visit our website to find such items. If you, the customer love the feeling of treasure hunting in an antique shop downtown, you can get the same feeling by looking at our homepage.
Please enjoy shopping for your special handicraft tools.
Usually specially made items are sold out soon after production. We appreciate your understanding.
04
Resharpen blade business
Do you have any tools that you can't use due to the blade becoming dull ?
When I started doing leather crafting, I also had the experience that I couldn't sharpen the edged tool and got frustrated and gave up using that tool and bought a new one.
Now we have set up a blade resharpening business, because of this experience.
We will support your leather craft life with our tools and the resharpening technique that we have cultivated with delight.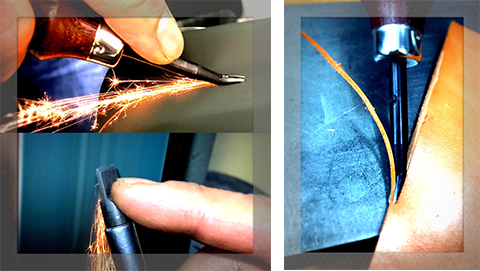 <The blades that can be resharpened>
Photo
Item Name
Price
User's Manual
Details
Japanese
English
Edge Bevelers (3Types)
980JPY ~
MORE...
Pro Edger 5types/ Includes: Edger sharpening rod/ Water resistant paper #800/ #1200
1,900JPY ~
MORE...
Pro Stitching Groover Blade  
520JPY
MORE...
Stitching Groover Blade
440JPY
MORE...
Groover Blade
550JPY
MORE...
Regular Type-Blade(No.2)/Blade thickness : About 2.3mm
530JPY
MORE...
Sheridan Thin Type-Blade(No.1)/Blade thickness : About 1.4mm
780JPY
MORE...
Sheridan Ultra Thin Type-Blade(No.0)/Blade thickness : About 1.0mm
1,200JPY
MORE...
Double Line Blade (2types )
2,500JPY ~
MORE...
<The fee for resharpening : in the case you directly send the tools to OKA FACTORY >
Edge Bevelers(3kinds) … ¥400(per unit) + cash on delivery fee + shipping fee = total payment fee
Pro Edger(5kinds) … ¥400(per unit) + cash on delivery fee + shipping fee = total payment fee
Other blades … ¥300(per unit) + cash on delivery fee + shipping fee = total payment fee
 The tools made by OKA FACTORY only apply for Resharpening business. Please send the tool after checking the maker's color, shape etc…
(We will refuse to resharpen the blade for other company's tools due to avoiding responsibility of damaging the tool)
 For a request, please inquire at the shop where you purchased the tool or at our retail distributors, SEIWA or please send it to the OKA FACTORY and the shipping fee is to be paid by the customer.
When we sharpen the blade, if there are many blades to be resharpened or if there are several blades in a pack, we shall take off any name tags etc…
We'd like to ask you to mark them with an engraving tool or with a permanent marker etc…
We don't take any responsibility if the tools can't be individually identified when they are returned.
Please understand that the shape of blade may change and that it's also possible that we can't sharpen the blade.
This will take 30-60 days because we sharpen all the tools together.
Manufacturing Sequence Flow
A sample of making a tool : Example of Diamond Hole Punches
01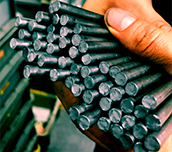 Material
We select the best material for leather crafting tools.
>
02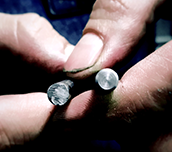 Top side chamfering
Chamfering surface of top side of the tool and to make them all of uniform length.
>
03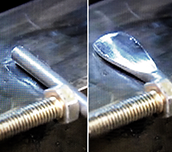 Press the material to make blade
Making a fixed thickness of blade.
>
04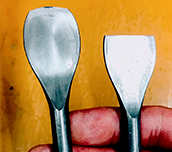 Cutting of the tools
Cutting the blade part for suitable length.
>
05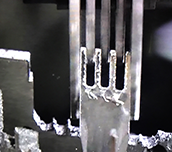 Cutting process for blade
We cut the material obliquely one by one.
>
06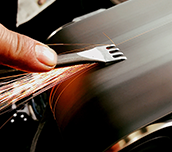 Deburring blades
We deburr the blade and make it into a rough shape.
>
07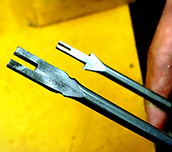 Shaping the protrusion
Making the whole shape which is nice to look at.
>
08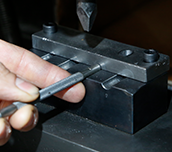 Engraving with punching tool
Engraving the product size and "Made in Japan" on the back of the tool.
>
09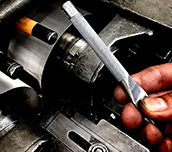 Making in a roulette pattern
Making it nonslip so as to get easier grip to work with.
>
10
Hardening and annealing the steel
Making the material to the correct hardness suitable for using on leathercraft.
>
11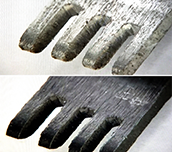 Black coating
For rust proofing.
>
12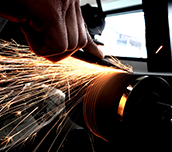 Blade finishing
Sharpen the whole blade so as to cut well.
>
13
Blade edging
Craftsman sharpens blades one by one by hand.
>
14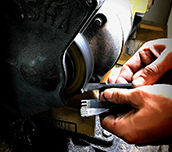 Buffing the blades
Smoothen the blade so as to make it easier to pull from the leather.
>
15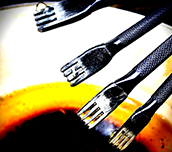 Resin coating on blade
Our tools have a resin coating on the blade so as to protect them from rust and to prevent the tip of the blade from breaking off.
>
16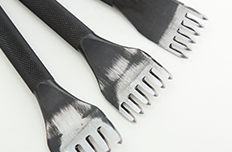 The finished product
Please feel free to inquire about anything and also asking for quotations.

Oka Factory & Co.,Ltd.
272-0827 5-10-7, Konodai, Ichikawa-city, Chiba

Monday - Friday, 8:30 a.m. - 6:00 p.m.
FAX +81-47-713-8661